BURR Mobile Lift - Outside Model
Scooter Lift Handles 3 or 4 Wheel Scooters and Wheelchairs.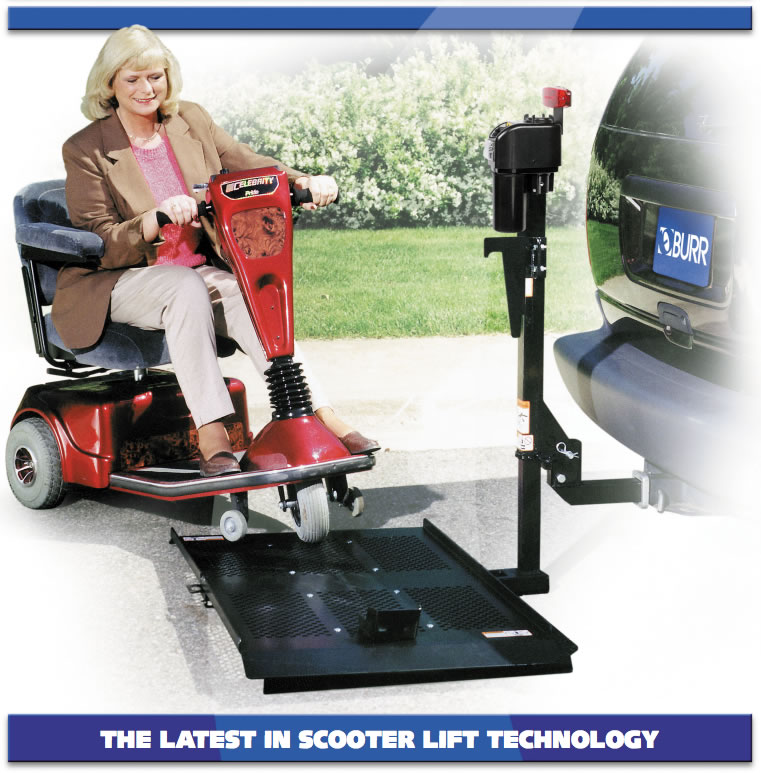 Folds up out of the way when not in use.
Automatically locks into place.
Unit folds down 45 degrees for access to the car's trunk.
Optional travel covers are available.
New Square Post provides maximum strength and stability.
All-aluminum 26" x 40" platform is lightweight and maintenance-free.
Attractively finished in a beautiful black powder coat finish.

Click
HERE
to download a PDF Brochure
The Burr Mobile-Lift Outside Model for conventional vehicles and motorhomes offers you the ultimate in quiet convenience and independence. It requires no disassembly of your 3 or 4-wheel electric scooter or wheelchair — simply drive it on, attach the safety harness, and push the switch. The Mobile-Lift raises and locks any scooter in place on the back of your vehicle in just 60 seconds so you can be on your way.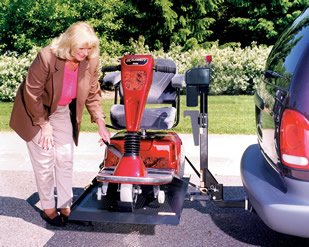 Once your scooter is on the platform and the brake is locked, push the switch to raise and stop halfway. Attach the adjustable safety belts and finish raising until the Moble-Lift automatically locks into place. Then just drive away!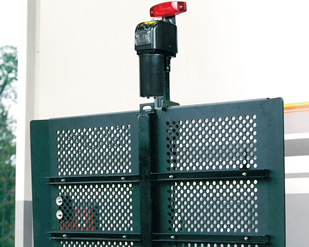 The Mobile-Lift Outside Model folds up out of the way when not in use. Just unfasten the lock-up strap and lower the platform when ready to use.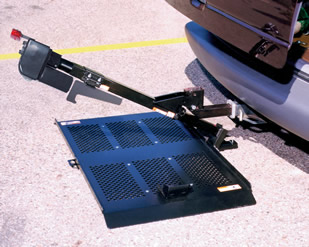 The unit folds down for access to the car's trunk, or the rear of station wagons, vans, or pick-up trucks.
Products from Burr Engineering take you where you want to go!