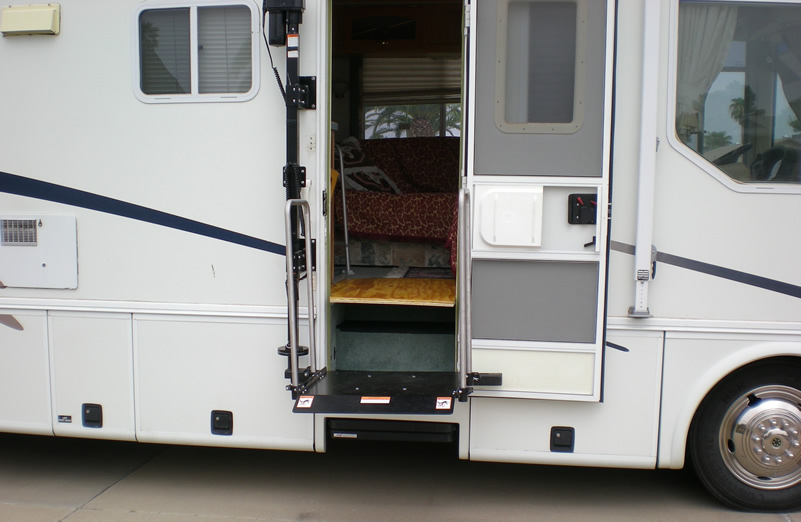 Motorhome & RV Lifts
If you're the kind of person who loves getting on the road and enjoying the outdoors as you move from one campsite to the next in your RV, then a motorhome/RV lift from Burr Mobile Lifts might just be the perfect solution for you! Your limited mobility doesn't need to be as limiting as you think. You deserve a fun vacation with your friends and family, and with this technology there's no reason why you can't have one.
At Burr Mobile Lifts, we manufacture and sell two different types of rv lifts. Each product has different specifications, but both a built with the quality that you can expect from Burr Engineering!
Handy Lift HD
The Burr Handy Lift HD is designed to help disabled people enter an RV or motorhome. It has a weight capacity of up to 500 lbs., and can be controlled using a wireless remote. You can simply get onto the electric lift platform and raise or lower it as desired with the touch of a button. A foldable handle on the side of the platform helps to stabilize you and make sure that you use the lift safely. The entire unit can be folded up during travel.
Handy Lift LT
The Handy Lift LT has a maximum weight capacity of 300 lbs. And is available in stroke lengths of either 40", 45" or 50". Just like the HD model, the handy lift LT comes with two wireless remotes and the same safety features. The strong, rigid construction makes it easy for you to enter and exit using your RV or motorhome lift safely.
With an electric RV lift from Burr, you'll be travelling with ease in no time. Our lifts from motorhomes are more than typical RV step lifts; they're advanced and easy-to-operate tools for getting back on the road!
Shipping & Installation
When you order one of our platform lifts, we can have it shipped directly to your door with all of the necessary parts and a comprehensive one-year warranty.
While each of our RV lifts does come with a comprehensive set of installation instructions, we recommended having a professional perform the installation for safety reasons. If you'd like, we can give the contact information for a trusted installer in your area to make sure that your mobile lift is assembled to operate correctly!
About Us
With over 25 years of experience in the electric lift industry, our designs and products are trusted by customers across the country. We help people regain their mobility and keep doing the things that they love. We have several models of scooter and platform lifts to suit your needs. To learn more,
contact us
today.